Auxiliary Connections
All classroom podiums provide auxiliary connections so instructors and students can bring in alternative devices such as laptops or other mobile devices to connect to the podium system. If an instructor is planning to bring an external device to class, please ensure the device has one of the connections below. If the device does not have these connections, please consider purchasing the necessary adapter.
IMPORTANT NOTE: These resources are available only for in-room instruction. They are not available to the Zoom application on the computer.
Digital Input
Most centrally scheduled VCU classrooms have been standardized on the HDMI connection to transport digital signals into podium systems. If a device has a digital output, but no HDMI, please obtain an adapter or cable that will convert the device output connector to HDMI.
Don't know what type of digital output your device has? View a list of different types of digital connectors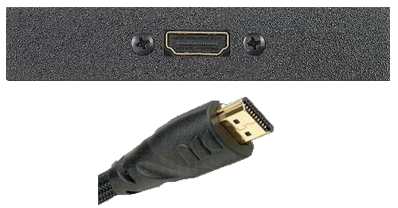 HDMI is the most adopted digital signal connection available. It is widely used on anything from televisions, laptops, tablets, and Blu-Ray players to LCD displays and projectors. There are a variety of other digital signal connectors used by a variety of devices. Most (if not all) digital devices that do not have this HDMI connection are capable of connecting to it by way of an adapter.
Other Resources Available on or Near the Auxiliary Interface
Power and Network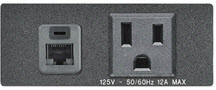 This plate is also known as Plan B. Most of the presentation sources such as laptops and tablets have decent battery life and wireless network connectivity. This plate is available for occasions when you forgot to charge up your batteries, or the wireless card is acting up. You might not need them, but they're there in case your Plan A device battery runs low before the presentation is over.
Computer USB Ports
With the growing number of USB driven devices being used by instructors, we are integrating computers in the podium with multiple USB ports on the front of them.
---
Interfaces and Hardware No Longer Available in Centrally Supported Classrooms

RCA Connectors for Video and Stereo Audio


VHS Players
If you have a device that requires the usage of one of these resources, please contact the VCU IT Support Center. They have a selection of AV equipment available for checkout to Faculty and Staff.