Classroom Microphones
Hands-on training is available for the resources listed below. Please call your campus' Classroom Support Hotline.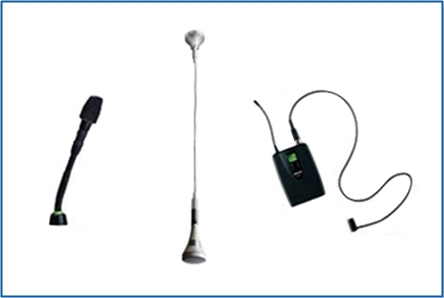 MCV: 828-3400
MPC: 828-1098
Podium Microphones

Our Podium Microphones are typically used in large lecture halls for speech reinforcement when presenting from the podium. If the system includes it, the podium microphone will also provide a feed to classroom capture appliances, video teleconferencing equipment, and the podium computer when software conferencing exists in the classroom. Shure MS405 Microflex microphones were installed due to their high-quality speech pickup and discrete size.
Wireless Microphones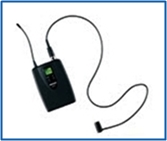 Wireless microphone systems are integrated into every centrally supported lecture hall on both MPC and MCV campuses. We have also deployed wireless microphone systems in classes where the physical room requires additional speech reinforcement. A wireless microphone transmitter packs (pictured above) can be checked out at the IT Support Center for up to a semester at a time*. All of our microphone systems on each campus work off of the same set of channels. This means you only need to check out one microphone even if you teach in multiple lecture halls or select classrooms. When checking out a microphone, you'll need to know in which room(s) you plan on using it. The IT Support Center can assist you in setting up the correct channel.
If you are interested in using more than one wireless microphone in your classroom, please visit your classroom's resource availability either on the Monroe Park Campus or MCV Campus room directory page to verify classroom capabilities.
* Checkout duration limit subject to change based on available stock and ITSC policies.
Audience Microphones
Audience Microphones
In our video conferencing intensive spaces, in collaboration with the Schools that use these spaces, we have integrated microphone systems for audience participation.
---
Ceiling Microphones - Best Practices
Because they pick up the sound so effectively, here are a few recommendations when using these ceiling microphones:
Keep the ceiling microphones muted unless the audience is engaged in a conversation that is meant to be included in the teleconference or recording.
When ceiling microphones are in use, notify the people in the room that they are on and to keep sidebar conversations to a minimum as they will likely be recorded or transmitted to the far site of the teleconference (depending on how the system is being used).

The new "ceiling tile" style microphone has an added indicator light to help with this. Red means the microphone is muted, and green means the microphone is unmuted.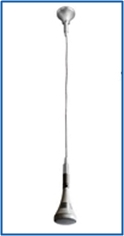 Pendant Ceiling Microphones
Suspended from the ceiling strategically around a classroom, these Pendant Ceiling Microphones have been the standard microphone solution for classroom audiences up until the summer of 2019 and are still in use in many classrooms. With mute/unmute controls located at the instructor podium, these microphones provide good pickup of audience conversation speech during teleconferences as well as recorded classroom sessions if desired.


Locations with Pendant Ceiling Microphones
MCV Campus
‑ KMSB: 104/105
‑ Health Sciences Research: 200, 204
‑ Perkinson: 3121
‑ Cabiness: 2008
‑ Sanger: B1‑020, 1‑044, 1‑067, 2‑020, 3‑016, 6‑032, 8‑036
‑ Smith: 216, 224
Monroe Park Campus
‑ Harris Hall: Fall 2021 ‑ 2120, 2122, 3103, 3130, 3142, 4153, 4169, 5136, 5162, 5163, 5167; and 5182
‑ Hibbs Hall: Fall 2021: B-024, 407
---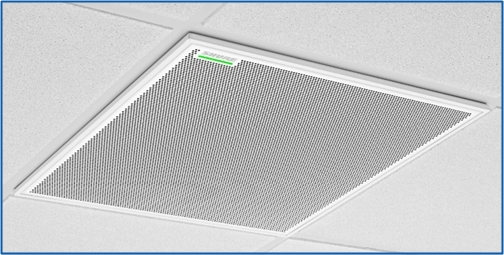 Ceiling Tile Style Microphone
New to VCU in 2019, these ceiling tile style microphones are very discrete, but provide excellent sound pick for a classroom audience participation response. The mute/unmute controls for ceiling microphones are located on the instructor podium.


Locations with Ceiling Tile Style Microphones
MCV Campus
‑ College of Health Professions: 1000, 1003, 1013, 1050, 1075, 2003, 2019, 3003, 3050, 3050, 4003, 6000, 6003, 8030
‑ Smith: 103 (Fall 2021)
‑ Cabiness: 1013 (Fall 2021)
Monroe Park Campus
‑ MCALC (Fall 2021): 1100, 1102, 1104, 1105, 1201, 2107
---
Push-To-Talk Student Microphones
Spaces with push-to-talk microphones provide one microphone for every two students. These microphones are muted by default but can be unmuted by pushing the button on the microphone itself. There are 2 basic styles available in the following Central Classrooms.
Note: The push-to-talk microphone capability was added by the School of Pharmacy and School of Nursing, respectively.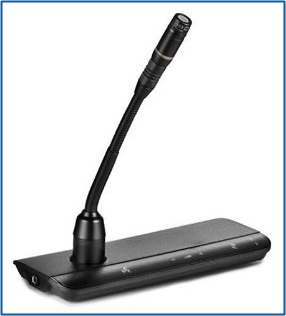 MCV Campus
This style of push-to-talk microphone is available in Smith 103, School of Pharmacy.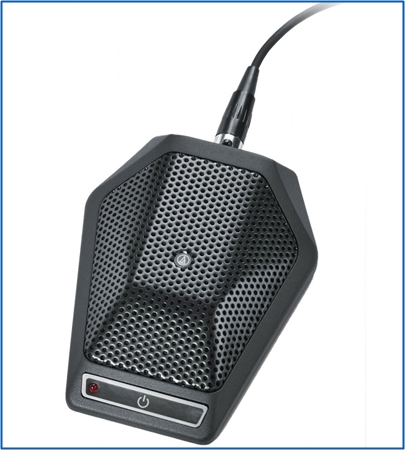 Monroe Park Campus
This style of push-to-talk microphone is available in Sadie Heath Cabaniss 1011, School of Nursing.
| | | | |
| --- | --- | --- | --- |
| {{ row[0] }} | {{ row[1] }} | {{ row[2] }} | {{ row[3] }} |